Finding and relishing good cookbooks is a vital part of keeping your culinary experience fresh and interesting, but there are so many vegan cookbooks floating around out there that finding ones that suit your cooking style, experience and palette can be a difficult task. I find keeping a good variety of cookbooks is also a good practice, because sometimes you'll be in the mood to spend three hours preparing a meal from 10-15 ingredients and other times, you'll want a 20-minute dinner for under $10. But they certainly can't all be gems. It's especially challenging if your just starting out with plant-based eating and aren't as familiar with techniques and ingredients that are fundamental to vegan cuisine. I lucked out with my first-ever vegan cookbook, which had a good balance of beginner, immediate, and advanced recipes. That was twelve years ago and since then I've managed to comb through and test a fair number of cookbooks, and from that I've managed to whittle down my favourites into a list of ten essential vegan cookbooks.
Of course, this list is subjective – everyone has their own unique tastes and preferences – but I've tried to include books that are approachable and have something for everyone.
*This post contains affiliate links.  I may earn a commission if you make a purchase through these links . 
Robin Robertson has written more than twenty cookbooks over the course of her thirty plus year career, and you really can't go wrong with anything from her expansive catalogue, but 1000 Vegan Recipes has a special resonance for me, because it was my first vegan cookbook.  As the title suggest, this is a substantial collection of recipes that covers appetizers, mains, drinks, desserts, salads and more. The ingredients in most of the recipes are straightforward and easy to source, and the instructions are cohesive and easy to follow.
More Plants Less Waste: Plant-based Recipes + Zero Waste Life Hacks With Purpose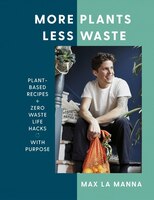 Cookbook author, chef and sustainability advocate, Max La Manna has really helped me become more aware of just how much food I actually waste.  His recipes often emphasize parts and by-products of fruits, vegetables, and grains etc that are discarded despite being fully edible.  This is simple, nutritious and delicious food that also helps further reduce our ecological footprint. He also posts some great recipes on his instagram, so be sure to give him a follow as well.
Home-cooked Vegan Comfort Food: More Than 200 Belly-filling, Lip-smacking Recipes
Maintaining a balanced diet is obviously important, and, in my opinion, indulgence is a healthy part of that balance.  What indulgence looks like will differ from person to person, but you're certain to find something that appeals to your personal interpretation of comfort food in this diverse recipe collection from Celine Steen and Joni Marie Newman.  And comfort food doesn't have to mean junk food. Many of the best recipes in this book still balance decadence with nutritionally rich ingredients. 
Vegan Richa's Indian Kitchen: Traditional and Creative Recipes for the Home Cook
Vegan Richa is one of the first blogs I go to when looking for new recipes to try, and it is also the best source on the web for vegan Indian food recipes.  Richa Hingle's first cook book is dedicated exclusively to her collection of Indian recipes, and what a delicicious and stunning collection it is.  There are the standard and well-known curry and flatblad recipes included, but Richa dives further into this rich culinary world, and gives us a wide breadth of Indian inspired dishes, and also desserts!  
Sweet Potato Soul: 100 Easy Vegan Recipes For The Southern Flavors Of Smoke, Sugar, Spice, And Soul : A Cookbook
The first cookbook by Jenne Claiborne is a real gem, with recipes made in the same southern culinary vein of her popular blog, Sweet Potato Soul.  With this book, Jenne effectively dispel the myth that southern cuisine must revolve around butter and fried animals.  Rather than leaning into the animal product heavy side of this cuisine, she instead emphasizes and expands upon the fresh produce it incorporates – okra, beans, collared greens, sweet potatoes, corn etc. The book also feels very personal, and she often adds a bit of context for the dishes, alluding to their cultural and historical significance, as well as their importance within her own life and history.
Minimalist Baker's Everyday Cooking: 101 Entirely Plant-based, Mostly Gluten-free, Easy And Delicious Recipes
Adapted from the blog of the same name, Minimalist Baker's Everyday Cooking is a great intro book for the neophyte vegan. The recipes are straightfoward and avoid the intimidating, long ingredient lists and complex instructions of other vegan cookbooks.  That being said, it can also definitely be enjoyed by veteran vegan chef as well. There's a fair amount of diversity in the dishes and a good balance of decadence and nutrition.  The photography and typography is also stellar, so when you're done cooking you can also use it as a lovely coffee table book. 
Veganomicon, 10th Anniversary Edition: The Ultimate Vegan Cookbook
No culinary library is complete without a cookbook from prolofic author, blogger, restaurateur and all around superstar Isa Chandra Moskowitz.  With such an diverse and impressive collection of books, it's hard to pick just one, but Veganomicon is probably her most well-known book and at 432 pages certainly the most substantial. There are over 250 recipes in this book, spread out across thirteen different categories, so Veganomicon is likely to keep you busy in the kitchen for quite some time. The 10th anniversary hardcover edition might be a bit pricey, but, aside from the quality of the recipes, it's beautifully designed and is a worthy collector's item.
Vegetable Kingdom: The Abundant World Of Vegan Recipes
Vegetable Kingdom is a gorgeous cookbook by Bryant Terry that gets back to the roots (literally) of veganism with vegetable forward recipes that draw out the rich, diverse flavours of vibrant, market fresh produce. The recipes are divided neatly into nine categories of ingredients, which makes it easy to focus on a particular area that you want to refine – for me, it's the funghi category.  Like his other books (Afro Vegan, The Inspired Vegan, Vegan Soul Kitchen), Vegetable Kingdom is more than a cookbook.  Bryant's work touches upon the social significance of food, and how it plays an integral role in our communities and cultures, and has the power to transform, enrich, and bring pleasure to our lives.      
Vegan Dessert Cookbook: Recipes For Cakes, Cookies, Puddings, Candies, And More
Of course you must have at least one cookbook dedicated exclusively to vegan desserts.  Missing out on all one's favourite sweet pleasures is often a concern for those trying to transition to a more plant-based diet, but fear-not, you don't have to comprimise your sweet tooth to be vegan.  Veteran cookbook author Ally Lazare takes us on a bright, colourful and thorough dessert tour with her book, Vegan Dessert Cookbook.  At 138 pages this is a substantial collection!  The photos alone will have your mouth watering! 
The Homemade Vegan Pantry: The Art Of Making Your Own Staples [a Cookbook]
Miyoko Schinner's (of Miyoko's Creamery fame) book is several years old now but it's still a valuable addition to any cookbook collection, especially if you want to learn how to make your own vegan staples like meat alternatives, yoghurts, cheeses, dressings etc.  Yes, perhaps these recipes will require an extra investment of time, but the payoff in flavour makes it more than worthwhile, and as many of us learned during the pandemic, making food from scratch can be a very satisfying and soothing experience.  Also Miyoko takes a very accessible and efficient approach to these recipes, recognizing, of course, that we all lead very busy lives.